Archives Image Gallery
The following images are currently being rotated on the Archives & Special Collections website. See complete descriptions of each below.
Click images to enlarge.
---
The Brydone Jack Observatory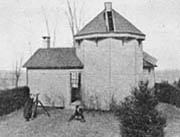 The Observatory at UNB, the first in Canada, was built in 1851 at the instigation of Dr. William Brydone Jack, a professor of mathematics, natural philosophy, and astronomy (and later president of the university). Not only did Jack use the Observatory for lecturing and teaching, but, more importantly, he used it to determine the longitude of Fredericton and to correct errors in the international boundary between New Brunswick and Maine. The building, now a museum housing some of Dr. Jack's tools and equipment, was made a national historic site in 1955. [Photo from: The University Monthly 24, 7-8 (May-June 1905): 246].
[ top of page ] [ homepage ]
---
Women's Hockey Team, 1911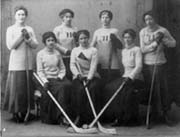 The first women's hockey team at UNB was formed in 1911. Once a week the ladies would practice at a local rink in order to hone their skills for games against their main rivals, the girls team from the Fredericton High School. The UNB team also travelled to Campbellton, and other cities in New Brunswick, to compete. The sport retained a strong popularity among the female students for a number of years, until about 1918 when interest in the sport wanned and the ladies team was discontinued. In recent years, women's hockey at UNB has regained popularity. In 2001, the team was granted varsity status and finished its first season in the Atlantic University Sports league on top, with an impressive record of 8-2-0. [PE199]
[ top of page ] [ homepage ]
---
Vellum Bindings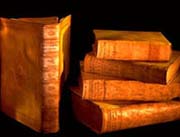 Vellum bindings, including the Rare Book Collection's sole incunabulum the 1496 edition of Johannes Nider's Preceptorium divini legis..., published in Nurnberg. In 2000, UNB Libraries produced a series of note cards depicting items from various collections housed in Archives & Special Collections. This is one of several designs available for purchase. [Photo by Joy cummings, UNB]
[ top of page ] [ homepage ]
---
View of the Old Arts Building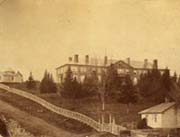 The Old Arts Building (now Sir Howard Douglas Hall) as it appeared between the years 1851 and 1876. The Observatory can be seen at the upper left corner. The small building at the bottom right corner of the photo is the gate-house. In 1876, under the presidency of Dr. William Brydone Jack, a third storey was added to the building. Sir Howard Douglas Hall holds the distinction of being the oldest university building in Canada still in academic use. [Charter Case, Drawer 1]
[ top of page ] [ homepage ]
---
Ceremonial Wheelbarrow & Spade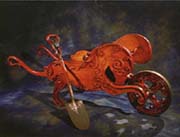 This ceremonial wheelbarrow and spade, made of black walnut, birds-eye maple, and butternut, was first used in Saint John by Lady Head, wife of Lt.-Gov. Sir Edmund Head, on 14 Sept. 1853 to turn the sod for the European and North American Railway. They were later used on similar occasions for the Fredericton Branch Railway in 1867, the Rivière du Loup Railway at St. Mary's in 1872, and for numerous sod turnings at UNB in the 1960s. These artefacts are presently on loan to the Moncton Museum forming part of a railway exhibit. In 2000, UNB Libraries produced a series of note cards depicting items from various collections housed in Archives & Special Collections. This is one of several designs available for purchase. [Photo by Joy cummings, UNB]
[ top of page ] [ homepage ]
---
Dr. William Brydone Jack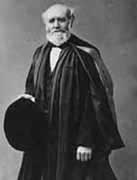 William Brydone Jack became Professor of mathematics, natural philosophy, and astronomy at King's College (later UNB) in 1840 and remained in that position for 21 years. The college's Observatory, the first astronomical observatory in Canada, was built at the instigation of Dr. Jack and he used it extensively for his courses and lectures and as a base of operations for solving cartographic problems and correcting inaccuracies in surveys of Crown lands. From 1861-1885 he served as President of UNB. During his term, the university grew and developed - a new gymnasium was built, a third storey was added to the Old Arts Building, and the first privately-funded scholarships were established. In 1885, after a 45-year long association with the university, Jack retired. Unfortunately, Dr. Jack did not live to enjoy his retirement - he died in November of the following year of respiratory difficulties. [UA PC-13 no.27(4)]
[ top of page ] [ homepage ]
---
Purple Violets by Elizabeth Beckwith Hazen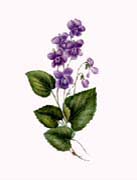 Purple violets or Viola Septentrionalis - one of over 100 watercolours depicting New Brunswick wild flowers, painted by Elizabeth Beckwith Hazen between 1867 and 1873, and held in Archives & Special Collections. Elizabeth Beckwith was born into a prominent New Brunswick family in 1839 or 1840. A marriage was arranged for her in 1858 to James King Hazen. In 1860, she separated from Hazen and returned to the Beckwith family home in Fredericton with her two children. As an amateur artist, Elizabeth Beckwith Hazen worked in several media including watercolour, oil, and crayon. By the 1870s she was winning recognition for her paintings and drawings at the Provincial Exhibition. She died in 1935, one of Fredericton's oldest and most distinguished citizens. [MG H13b]
[ top of page ] [ homepage ]
---
Dr. James Robb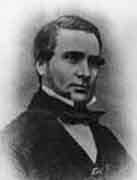 James Robb, Scottish educator and scientist, came to King's College (later UNB) in 1837 as its first professor of natural history and chemistry teaching botany, zoology, physiology, anatomy, geology, and mineralogy, as well as chemistry. A much valued and respected member of faculty, Robb's career at the college spanned 24 years. He died, much lamented, on 2 April 1861 at the age of 46. Dr. Robb's many contributions to the university and the city included: the creation of the province's first systematic botanical collection and the establishment of the College Museum to house the collection; the founding of the Fredericton Athenaeum, a learned society; appointment to Fredericton's first city council and designer of the city's flag; formation of the New Brunswick Society for the Encouragement of Agriculture, Home Manufactures, and Commerce; and the publication of many important scientific papers and reports. [UA PC-13 no.44(3)]
[ top of page ] [ homepage ]
---
Dr. Loring Woart Bailey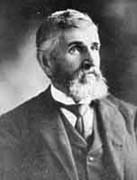 Loring Woart Bailey came to UNB from Harvard in 1861 to assume the position left vacant by the death of Dr. James Robb. As Professor of Chemistry and Natural Science (later Geology and Biology) he lectured on a great variety of topics to students and the general public. He spent summers exploring the province, first for the purpose of gathering geological and botanical specimens, and later, as an official for the Geological Survey of Canada. Dr. Bailey was also involved in what was believed to be the first operation of a telephone in the Maritimes and also produced the first electric light in Fredericton. He wrote and published numerous scientific papers and reports, and an elementary textbook on natural history that was used in New Brunswick schools. In 1907, Dr. Bailey retired ending his 46-year career at UNB. Bailey Hall, built in 1960, was named in his honour. [UA PC-13 no.4(2)]
[ top of page ] [ homepage ]
---
Track and Field Team, 1905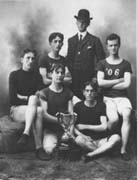 On 5 June 1905, UNB's Track Team, for the first time, was crowned "Intercollegiate Champions of Maritime Provinces." UNB captured the Championship Cup by defeating Acadia by a margin of only one point. Started in 1903, and held at various locations throughout New Brunswick and Nova Scotia, the annual intercollegiate track meet saw teams from UNB, Acadia, and Mount Allison competing against each other for the championship title and coveted trophy. Events at the competition included: shot-put, broad jump, high jump, pole-vault, and foot races. After losing the title to Acadia at the 1906 meet, UNB once again claimed victory and ownership of the cup in 1907. [PE147]
[ top of page ] [ homepage ]
---