Writing Help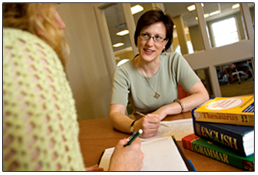 UNB students can seek free help to improve all aspects of their academic writing from the UNB Writing Centres located on both the Fredericton and Saint John campuses. In Fredericton, students can meet with Writing Centre consultants either in the C. C. Jones Student Services Centre or in the Learning Commons of the Harriet Irving Library. In Saint John, students can meet with consultants in the Writing Centre located on the first floor of the Hans W. Klohn Commons.
Writing Centre consultants aim to help students improve their own writing abilities through individual tutoring sessions that focus on academic assignments. Students can get help to understand the particular demands of formal, academic writing in English, including such topics as clarifying ideas, making an outline, developing a thesis statement, thinking critically, structuring an argument, and effective editing. The goal is to help students improve the clarity of their own thought and expression.
Learn more about the services offered by the Writing Centre in Fredericton and in Saint John.
To book an appointment with the Writing Centre on the Fredericton campus, drop by the main office of the Writing Centre in the basement of C. C. Jones Student Services Centre at 26 Bailey Drive, call 452-6346, or send an email to wss@unb.ca. For more information, visit the website for the UNBF Writing & Study Skills Centre: go.unb.ca/wss.
To book an appointment with the Writing Centre on the Saint John campus, fill out the online form at www.unbsj.mywconline.com. If you'd like to learn more, please visit the UNBSJ Writing Centre website or call Student Services at 506-648-5501.
You may also find the following resources from UNB Libraries helpful: